Free Add-on for Google Slides to help you make
Smarter Decisions, Faster Prototypes, Better Proposals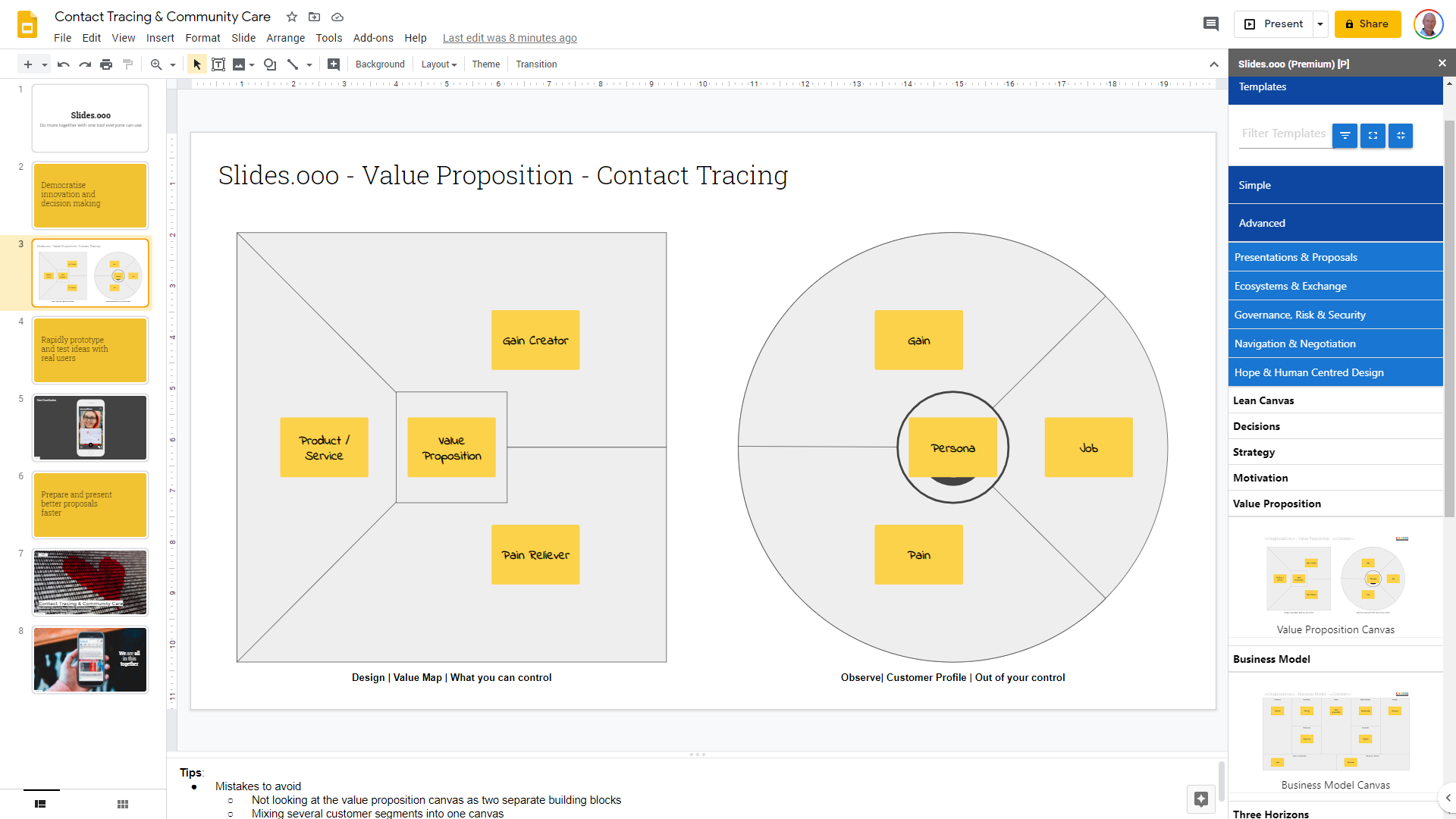 Make Decision Making Easier for Everyone
What if you could bring people together to share ideas, make decisions, create prototypes, prepare proposals and share ideas using one tool everyone is familiar with and already has access to? And do this live with video conferencing?
Smarter Decisions
The Slides.ooo Add-on for Google Slides provides a sidebar of tools and templates to do just that, making it possible for everyone to participate in your business innovation and decision making processes.
Rapidly Prototype & Test Ideas with Real Users
What if you could enable every person in your business to quickly mock up their ideas for apps and product features? What if you could then test your app mockup with real users by simply sharing a Google Slides presentation or PDF?
Faster Prototypes
Slides.ooo lets anyone in your business mock up apps and product features using clicks not code, including hotspot navigation to guide viewers through screen flows to simulate app intereactions.
Prepare & Present Better Proposals Faster
What if you could accelerate the process of preparing proposals and presentations using libraries of templates, icons, photos and videos? What if you could create your own libraries of custom templates to encourage reuse of common content and consistent branding?
Better Proposals
Slides.ooo can give everyone access to libraries of templates, icons, photos and videos to prepare and present better proposals faster.
Do More Together
with One Tool
Everyone Can Use
Simplify your tool set by bringing together key features of multiple tools:
Shared Whiteboards with Post-It notes (e.g. Miro, Mural)
Diagrams and Architecture (e.g. Visio, Sparks EA)
Prototyping (e.g. Figma, Sketch)
Presentations (e.g. PowerPoint, Google Slides)